11:56 PM | link
What if you started a weblog and nobody came?


12:06 AM | link

After a long, hard day at the steel mill, Brad liked to come home and slip into something a little more comfortable.



Thursday, February 28, 2002
11:37 PM | link
For people who just can't kick the needle habit, here's a lovely "Crochet Musical Fragrance Doll with matching Necklace Holder and Tissue Cover". Next week, we'll learn how to knit a toilet cozy!


11:27 PM | link
Guaranteed to keep your kids from sneaking cookies while you're not around.


11:17 PM | link
If only poor Sonny Bono were alive today, he could still be making great films.


11:00 PM | link
"What a cool old lamp! It looks wonderful lit or unlit!" Or even in a pitch-black room!


10:56 PM | link

Everyone else thought she was crazy, but Louise was certain she heard the distinct sounds of partying coming from the
greenhouse late at night.



10:42 PM | link
We just love the subtle, sophisticated design sensibilities of most online sellers.


10:27 PM | link
"Honey, why do you have all those old broken paper towel holders? Can't I throw them out?"

"No, I'm saving them for a craft project!"


6:49 PM | link
The Hartsfield PTA finally found an alternative to Ritalin for its widespread ADD problem.

(thanks, Neal!)


6:27 PM | link

"This is the rear seat out of the mini-van that my girlfriend had stolen from her last weekend by our (ex) crack addict house renovator. Anyway, the van has been reported stolen and all we have left is this seat."

(thanks, James!)



Wednesday, February 27, 2002
8:49 PM | link
Oh, we're so glad they finally put a pop-top on those cans ... we were always cutting up our fingers on the old ones.

(thanks, Heidi!)


8:44 PM | link
We love condiments whose eyes follow you everywhere.

(thanks, Regina!)


8:40 PM | link
Angry that all her faithful years of service as the school librarian had been ignored, Eunice took her revenge out on the books ... one corner at a time.

(thanks, tgaudet!)


Monday, February 25, 2002
4:02 PM | link
It's too bad she didn't include her email address. We have so many unanswered questions.

(thanks, Myra!)


3:42 PM | link
SexyGrrl8549625: Oh, baby ... you're so hot.
BaxterStockman: I know. It's my user name. The guys envy it, and the girls won't leave me alone.

(thanks, Treytor!)


3:28 PM | link
Well, at least the insurance would be cheap.

(thanks, Tim!)


3:25 PM | link
She's got our vote: Barbie was enjoying a successful campaign ... her numbers were up in the polls, and people really seemed to be connecting with her vision for the future. Unfortunately, it was only a matter of time before her past caught up with her.

(thanks, Tracy!)


3:11 PM | link
Oh, absolutely. Because if there's anything we're short on, it's teenage mothers.

(thanks, Loree!)


Sunday, February 24, 2002
12:58 PM | link

Hi, boys and girls! We're going to have lots of fun today -- first we're going to sing a few songs and play a little game, and then we're all going to go visit Mr. Small Intestine!

(thanks, Christiecat)



12:53 PM | link
What's missing from today's popular music: good old-fashioned showmanship.

(thanks, bbrock!)


12:48 PM | link
This would be a great gift for a friend on a low-sodium diet.

(thanks, Erika!)


12:38 PM | link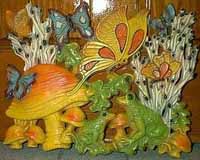 "If you're doing a mod room [or a lot of acid] then you need this."



12:26 PM | link
Yes but will they match the sofa?


12:23 PM | link
Hurry! You've only got 3 days and 5 hours left to bid on your very own Jon Bon Jovi snow globe!

(thanks, Raven!)